Newsletter #127 / December 2021
Given that in recent weeks there has been a sustained decrease in the number of COVID-19 positive cases, the Ministry of Public Health and Social Assistance (MSPAS) has considered overruling the provisions of Ministerial Agreement No. 95-2021 and has agreed to the following measures:
Mandatory use of mask without a valve, except for children under 2 years of age and persons who, due to medical indication, are unable to use it.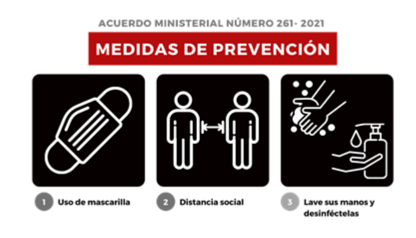 Physical and social distancing, respecting the capacities established by the MSPAS.
Moreover, it is established that all sectors and economic activities, without exception, comply with the regulations in terms of capacity and restrictions established in Ministerial Agreement Number 229-2020, dated September 28, 2020, which approved the Health Alert System for the Attention of the COVID-19 Epidemic and the appendix containing the regulations according to health alert schedule, with its respective modification made by Ministerial Agreement Number 234-2020, dated October 1, 2020, both resolutions of the MSPAS.
Non-compliance with these norms will be sanctioned by the health authority in accordance with the Health Code.
Additionally, on December 15, 2021, Governmental Agreement Number 242-2021 was published, which amends Governmental Agreement 221-2004, establishing that from December 15, 2021 to January 15, 2022, the sale and consumption of alcoholic beverages, is prohibited from Monday to Sunday from 2:00 a.m. to 6:00 a.m., in commercial establishments open to the public, including nightclubs, restaurants dining rooms, night centers, canteens, bars, hotels, motels or boarding houses; as well as supermarkets, grocery stores, convenience stores and similar commercial establishments; with exception for Christmas and New Year's Eve (December 24, 25, 31 and January 1).
The establishments referred to in this provision may remain open during the hours they are authorized to do so by the competent authority, if they do not infringe in any way. The owners, legal representatives, managers, managers, or employees of the commercial establishments shall be jointly and severally liable.
In case of noncompliance, the businesses will be sanctioned with a fine of GTQ.100,000.00 and the patents, licenses or permits granted to the individuals or legal entities that own the establishment may be cancelled. Individuals who contribute to non-compliance with this provision by reason of their economic activity or work, or who are consuming any of the beverages in the establishments previously mentioned, will be fined GTQ.5,000.00, without prejudice to the criminal actions that may correspond according to other laws.
At this time of the year, we advise that you remain cautious and continue to take care of yourself and your loved ones.
Carrillo & Asociados